[gdgallery_gallery id_gallery="4″]
For questions or to hire the band please contact Thomas
The Thomas Gunther Trio follows the tradition of the classic jazz piano trio established by pianists like Nat King Cole, Erroll Garner, and Oscar Peterson. Its premier style is Jazz That Swings.
About the Music
The Chicago based Thomas Gunther Trio is best known for its swinging jazz style. Dependent on the occasion, the trio's repertory includes other styles such as latin jazz, ballads, contemporary jazz and original songs (see repertory list).
The trio is highly flexible in style and instrumentation, thus being able to adapt to the needs of many different events and venues.
---
The Thomas Gunther Trio is perfect for swing dancers
""I travel around the world teaching Lindy Hop and Swing; and in all my travels, I have never encountered live music that inspires my dancing more than Thomas Gunther's Trio".

Julee Mertz –
Founder of Chicago's premier swing dance studio BigCitySwing.com
---

"Plus" stands for featured guest(s). We can expand the trio to any size, from trio to jazz combo with a horn section and singer.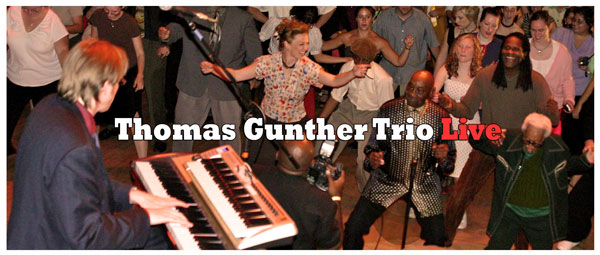 For more than a decade the band as been performing at swing dance venues in and around Chicago. Those include huge events such as the Chicago Summer Dance, and the Willowbrook Ballroom where we performed for several Lindy Hop Exchange events.
The Thomas Gunther Trio (Plus) live on video.
---
The Trio's CD
You can order the CD by emailing Thomas or listen to it on all major online digital music distributers. Or simply use the player below to check it out.
For questions or to hire the band please contact Thomas
Not Just For Swing Dancers
The band's ever growing repertory spans far beyond swinging jazz tunes. Dependent on the occasion the band performs also latin jazz, bossa and samba tunes, funk, and other popular contemporary music. (Thomas Gunther Trio's repertory list).
We Come In Different Sizes
Dependent on the occasion, the trio may expand its instrumentation by adding a vocalist, sax player, or even an entire horn section. It's really up to you.
Thomas also performs solo piano, or in a duo setting with a bass player, singer or soloist.
About the Musicians
The musicians are some of the finest jazz performers Chicago has to offer. For example, bassist Daniel Anderson performed with Ray Charles, The Jimmy Dorsey Band, Joe Williams, Von Freeman, to name a few. For information about band leader Thomas Gunther check out the header menu of this page.
Where and for whom are we performing
The band can be hired to perform at public venues such as jazz clubs, concert halls, and jazz festivals. We also perform for private events (receptions, dining, etc.). We are highly adaptable and experienced to suite many different occasions, having played pretty much every type of event and venue.
Pricing
There are many factors that need to be considered when it comes to the costs of a band. The easiest way to get a quote is by contacting me via email and answering the questions provided here.
For further questions
or to hire the band please
contact Thomas
Find out about the birth of the Thomas Gunther Trio