3 Horn Players – 14 Horn Tracks
There are 14 horn tracks on the Swing Fever Song, all of them performed by only three horn players. Ideally, I would have hired 14 horn players, rehearsed them, and recorded all of them at once. There are two reasons why I decided against this path of action: 1) it would have cost me a lot more money, and 2) it would have been impossible to get all these busy musicians into the studio at the same time.
How it was done
In order to record each musician individually I had to prepare a playback of me playing all the instruments (using my computer's virtual instruments) and singing the vocal tracks to a click track. To give the recording the proper swing feel I had George Fludas record his drums before the horns would record their parts. The horn players were thus able to sit on George's groove and make it swing naturally.
---
Victor Garcia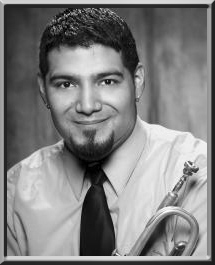 Victor is an amazing trumpet player who can play in any style. He was the first horn player to record on the song which is always difficult because there is no support coming from any of the other players as he is recording to the playback. For Victor this was absolutely no problem. He totally nailed it!
Working with Victor was a wonderful experience. He is not only a great trumpet player that can sight read anything, but also a very easy going fellow. Thanks again, Victor!
To learn more about Victor go to myspace.com/victorgarciatrumpet
Steve Eisen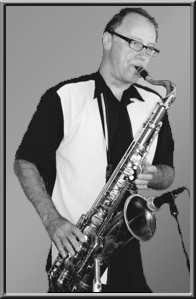 Steve has played the baritone sax and all tenor sax parts as well as the sax solo on Swing Fever Song. He has a beautiful sound on both instruments. Steve is all the way up on the list of first call session musicians in Chicago.
He's at home in any musical genre and style. He's is also a wonderful flute player and hand percussion player.
Steve has performed with many world class musicians and orchestras.
To learn more about him google for Steve Eisen.
Andy Baker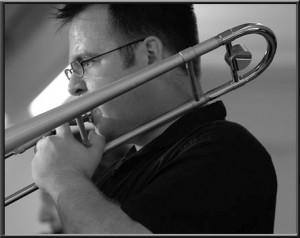 After immigrating to the US from Great Britain years ago he has quickly become one of the most sought after trombone players in Chicagoland. He did an amazing job playing all 3 trombone parts on the Swing Fever Song. He also played the bass trombone part on the recording. His sound is beautiful, and he swings hard. Reading the music was a piece of cake for him it seamed.
I would have liked to give him a chance to solo on the song but unfortunately there was no room for it. Andy just finished a brand new album.
To learn more about Andy Baker go to http://www.andybakertrombone.com/
Return to previous page
Return to SwingFeverSong.com