Das Krisch/Gunther Jazz Duo
For the english version click here.
Vibraphonist Dizzy Krisch und Pianist Thommy Günther haben ihr Duo Programm "American Jazz Made In Germany"  im Tübinger Stern am 30. July 2013 mit grossem Erfolg prämiert. Leider gibt es keine offizielle Kritik über das Konzert.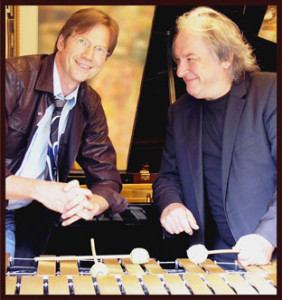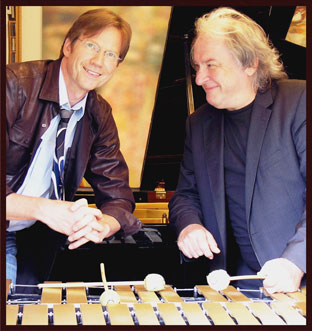 Die beiden Musiker haben zum ersten mal in Chicago vor fünf Jahren miteinander musiziert. Sie haben sich dabei so gut musikalisch verstanden dass sie sich spontan dazu entschlossen haben das Krisch/Gunther Jazz Duo zu gründen.
Das Programm besteht vorwiegend aus American Standards, die Musik mit der sie sich ihr Leben lang leidenschaftlich beschäftigt haben.
Thommy Günther zum Duo:
"Es ist nicht selbstverständlich dass sich Zwei Musiker finden die sich nicht nur musikalisch sondern auch menschlich so gut verstehen wie das bei Dizzy und mir der Fall ist. Ich kenne Dizzy schon seit ewigen Zeiten, hatte aber bis vor ein paar Jahren noch keine Gelegenheit mit ihm zu spielen. Mit der Gründung des Krisch-Gunther Duos ist mein Jugendtraum, mit einem der besten Deutschen Jazz Musikern zu musizieren, endlich in Erfüllung gegangen."
Um das Duo spielen zu sehen klicken Sie einfach auf das Abspielsymbol im folgenden Photo. Tip: Um das Video im Großformat zu sehen klicken Sie auf den YouTube Großbild Schalter in der unteren rechten Ecke des Rahmens während des Abspielens.
Boogie For Oscar



The Dizzy Krisch and Thomas Gunther Duo performing Boogie For Oscar
Live in Tübingen in der Gaststätte Stern
Krisch Gunther Duo Live in Tuebingen, Germany - "American Jazz - Made in Germany"
Thomas Gunther siedelte 1997 nach Chicago über und entwickelte sich dort rasant zu einem der wenigen "German Jazzer in Town", die es in der Musikstadt Chicago und überhaupt in den USA geschafft haben, sich eine Existenz als Jazz Musiker aufzubauen. Er wurde zum Pianisten und Komponisten/Arrangeur des Chicago Jazz Ensembles unter William Russo und später Jon Feddas, und gründete seine eigene Bands, das Thomas Gunther Trio und Thommy Gunther's Taste Of Chicago Band, mit der er Deutschland  tourte. Am Columbia College Chicago ist er seit einigen Jahren als Professor für Pop/Jazz Theorie und Pop-Arranging tätig.